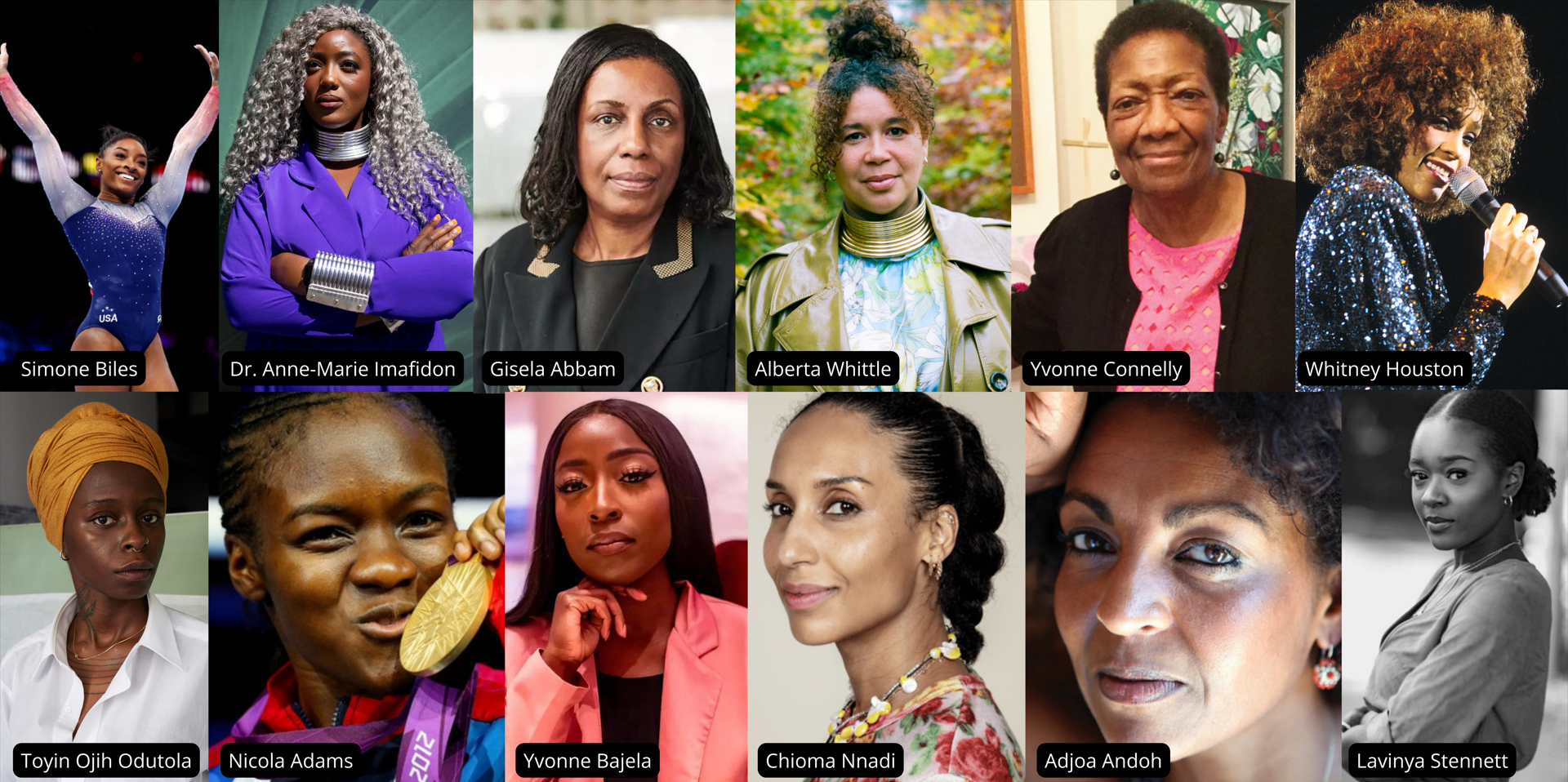 Saluting Our Sisters: Simone Biles, Dr. Anne-Marie Imafidon, Gisela Abbam, Alberta Whittle, Yvonne Connelly, Whitney Houston, Toyin Ojih Odutola, Nicola Adams, Yvonne Bajela, Chioma Nnadi, Adjoa Andoh, Lavinya Stennett
October is Black History Month in the UK and we are loving the opportunity this year's theme gives us to 'Salute Our Sisters'!
It is truly joyous to spotlight and celebrate the crucial role that Black women have played in shaping our history, inspiring change and building our communities, through literature, music, art, fashion, sport, business, politics, education, healthcare, socially, and so much more. The few incredible individuals we are highlighting here have been selected from a very, very long list of other outstanding women we could have chosen!
So, why the focus specifically on Black women? Well, we say, why not? Throughout history, Black women have faced unique challenges and triumphed over adversity in remarkable ways. The voices of Black women have been suppressed, silenced, and side-lined for centuries. Despite these challenges, Black women have persevered. Despite adversity, Black women have not just survived but thrived and made a mark upon all our history.
Saluting Our Sisters: Dr. Samella Lewis, Malorie Blackman, Dame Shirley Bassey, Serena Williams, Dame Joycelyn Barrow, Ayesha Ofori, Rihanna, Letitia Wright, Beverley Knight, Simone Leigh, Candice Brathwaite, Dr. Funmi Olopade
Acknowledging intersectionality
We tend to talk about race inequality as separate from inequality based on gender, sexuality, age, or socio-economic status. What's often missing is how some people are subject to many or even all of these, and the experience is not just the sum of its parts. To quote Kimberlé Crenshaw, "All inequality is not created equal". An intersectional approach shows the way that people's social identities can overlap, creating compounding experiences of discrimination. For example, all women can face gender discrimination in the workplace. However, Black women have also been unfairly stigmatised in the workplace, where natural hairstyles or protective styles are sometimes deemed unprofessional, highlighting the inherent biases in the workplace, and in our society, generally. Or there is the application of "adultification bias" which has led to the rights of specifically Black girls being diminished or ignored and the outrageous ordeal of Child Q.

Intersectionality is a lens through which we can see where power comes from and collides, where it interlocks and intersects. We need to recognise how the negative effects of bias, microaggression and privilege are amplified for individuals with layered identity. Layers of intersectionality can hinder access to education and employment opportunities, they can shape thinking and mindsets, the view we hold of ourselves and our place in the world, they can potentially diminish aspiration and ambition, and have a serious impact on mental health.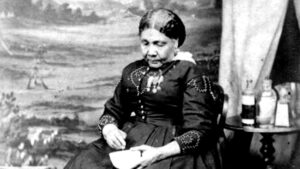 Before Florence Nightingale, there was Mary Seacole – a pioneering nurse and unsung heroine of the Crimean War
Recognising the accomplishments of Black women is not just a gesture of appreciation, it is an acknowledgement of the power to rise and succeed despite the cards often being heavily stacked against you. It's a necessity to be part of a positive change to the narrative, in a move towards eradicating inequality and inequity in the workplace and wider society through better understanding and allyship, and to challenge the systems that oppress.
As a proudly Black female founded and led organisation, we recognise and celebrate the awesome resilience of Black women to overcome, contribute and excel.
To all Black women, wherever you are, whoever you are, we salute you.. this month and always!