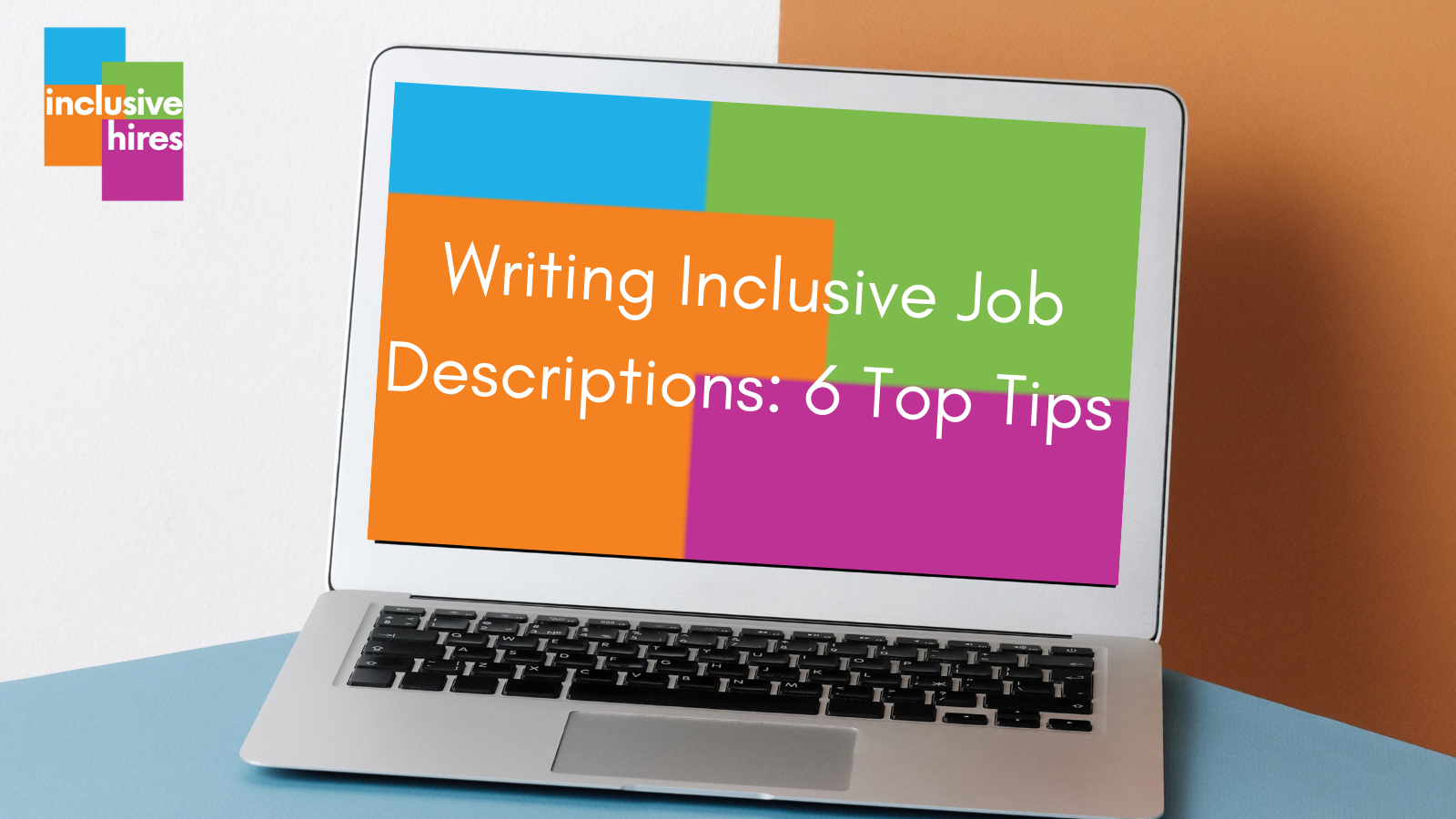 Did you know that the average job seeker spends 49.7 seconds reading a job description before dismissing a position as a poor fit? Any changes you can make to your language and the accessibility of your recruitment process to be more inclusive will help attract talented candidates to your opportunities who may have previously stopped reading after less than a minute.
Here are six key ways you can be more inclusive when writing your job descriptions:
1: Clarity
Placing initiatives such as parental leave, flexible working practices and benefits like health insurance in plain sight will showcase you as an employer who takes diversity, flexibility and inclusivity seriously. Don't make people have to ask you about these, as some people may not feel they can due to a fear of being judged. If you are open and clear about these in your job ads, this will make you a much more attractive option for job seekers, as they can better see that your company values align with their own and feel comfortable applying to work with you.
Clearly highlight your organisation's inclusive benefits, values and diversity commitment and proudly tell candidates you are an equal opportunities employer!
2: Gender Neutrality
According to research, women will only feel able to apply for a job if they meet 100% of the qualifications, so to avoid unconscious gender bias, eliminate requirements that are not essential. Highlight areas where transferable skills are acceptable, or where training may be provided, and clearly outline which qualifications are required or preferred.
Try to avoid using gender-coded words, typically understood to be coded for a male or female audience:
– Female-coded words include: agree, sensitive, affectionate, feel, support, collaborate, honest, trust, commit, interpersonal, understand, compassion, nurture, and share.
– Male-coded words include: aggressive, confident, fearless, ambitious, head-strong, assertive, defend, independent, dominant, outspoken, challenge, driven, and superior.
Also, be careful with your job titles – it may seem obvious but always use Chairperson rather than Chairman!
Free tools are available to assess your ads before posting. Here are two examples:
Gender decoder
Inclusive language checker
3: Remove Racial Bias
Racial bias can be implicit and often unknowingly perpetuated. In other words, you may be deterring candidates from applying with out even realising it. However, some careful attention to the words and phrases you use in your ads can help remove conscious and unconscious racial bias.
Here are some things to look out for:
– Avoid phrases like, "strong English-language skills" as these may deter qualified non-native English speakers from applying.
– A "clean-shaven" requirement may exclude candidates whose faith requires them to maintain facial hair – it also indicates the position is for men only.
– Mentioning "Friday After-Work Drinks" will also exclude candidates of certain faiths.
– Focus on "Value Alignment", as this is more inclusive than "Cultural Fit".
By setting criteria that makes it impossible for a certain group to apply, you create a barrier which indirectly excludes them from the recruitment process. Always check through your ads once written and rephrase anything which could be seen as discriminating.
4: Be Age Inclusive
It's easy to encode ageism into your job without even realising it. Make sure you are not missing out on the contribution of a lifetime of knowledge! For example, we tend to imply youth for entry-level roles when the truth is that anyone starting a career (regardless of their age) can be entry-level.
Similarly, asking for tech-savvy or seasoned applicants may not sound exclusionary, but tech-savvy can imply younger, while seasoned can imply older. And only use "Junior"/ "Senior" as part of a job title.
Try to avoid using youth-oriented code words in your job ads such as dynamic, fast paced, flexible, energetic and fresh. An older applicant can of course be dynamic but the overall tone of your ad may well deter them from applying for these roles. And if you describe your company as young, make sure it is absolutely clear you are not asking for a young candidate. Additionally, avoid phrasings such as "party atmosphere", "work hard/play hard", "digital native", and "athletic" or "athletically inclined".
5: Disability Inclusion
Disabled candidates look for employers with good recruitment policies. Make it clear from the offset that your company is committed to equality and shout out about your inclusive culture at the top of the job ad. Let applicants know if you have signed up as a Disability Confident Employer.
Always highlight flexible or remote working options. With today's technology there's often no need to commute an hour or to sit at a desk to work. The current pandemic has highlighted the possibilities of this even further.
Try to avoid long bullet-pointed lists of requirements and instead of listing 'employer wants' for a role, consider listing only the essential 'employer needs'. Be mindful of the language you use and make it clear you judge candidates only on how well they fit the job criteria.
You will not only be improving accessibility to your opportunities but also by employing more disabled people your workforce is far more likely to gain insight and understanding and more likely to talk openly about disability and challenge the status quo.
6: Remove LGBTQ+ Bias
One of the most common examples of unconscious LGBTQ+ bias is personal pronouns. If you use "his/her" or "he/she" you will be excluding any candidates who do not identify with male/female. Using "they" and "their" is the more inclusive choice.
Refer to potential applicants as people/person and not "men" or "women", as this is exclusionary to the transgender and queer/questioning members of LGBTQ.
Another common LGBTQ+ bias is to use the word "maternity", because this is associated with women so you might be excluding a single parent who is not a woman, or a pair of parents neither of whom identifies as a woman. You may also alienate men if you don't mention paternity, so it's better and more inclusive to use a phrase like "parental time off" or "having a child". Similarly, always use "parent" rather than "mother" or "father".
LGBTQ+ inclusion should be at the core of all your equality and diversity policies including your recruitment process, to ensure employees of all sexualities and gender expressions feel safe and valued.
– Inclusive Hires, July 2021