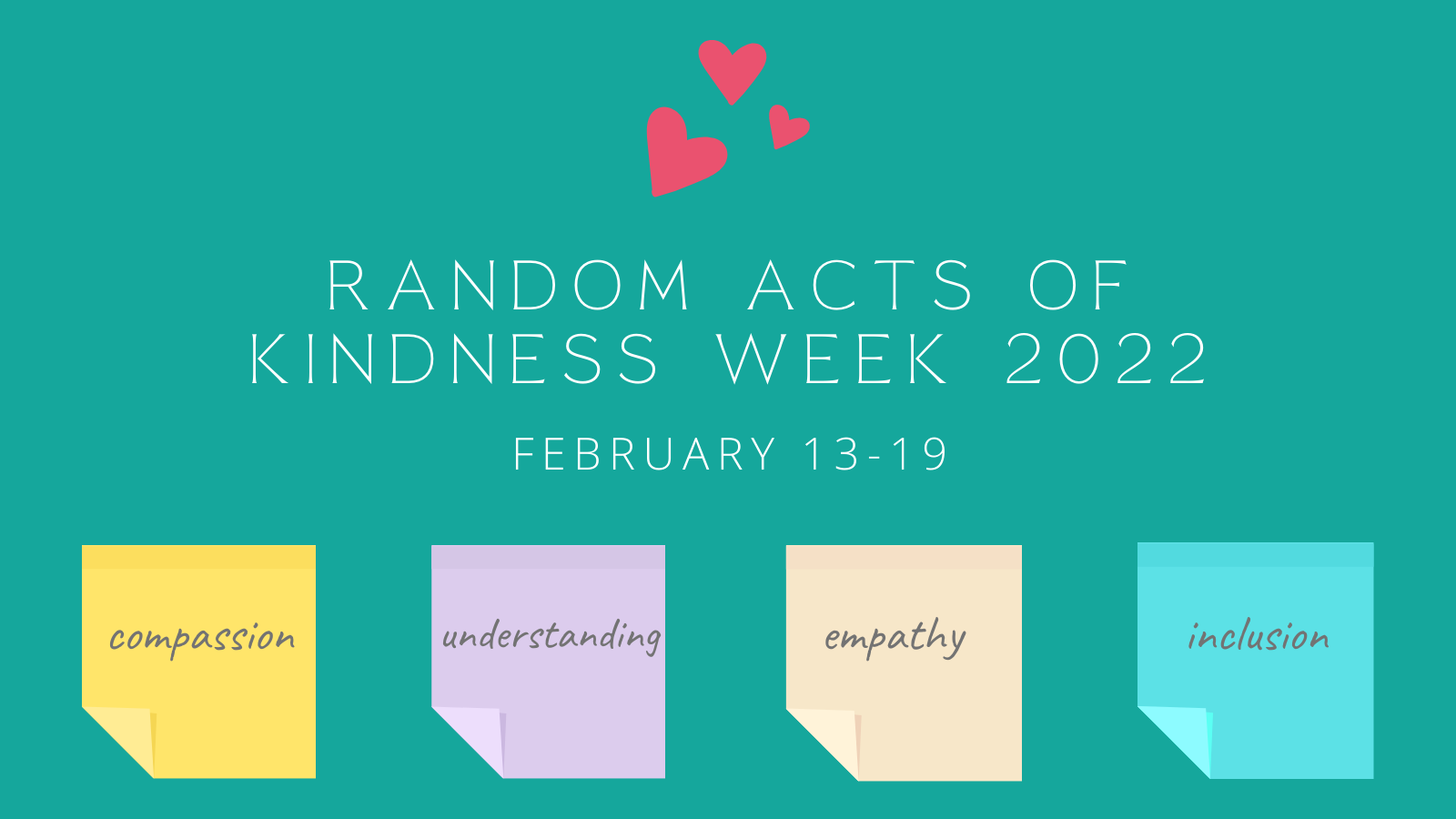 It's Random Acts of Kindness Week. Everyone could do with more kindness in their lives, especially so after the last two tough years. Scientific evidence shows us the positive effects of doing kind acts for others, as well as receiving or even witnessing kindness.
For this year's Random Acts of Kindness Week, we're putting our focus again on Random Acts of Inclusive Kindness.
Even the smallest act of kindness can foster inclusion! For example:
Education and understanding are the first steps toward creating more diverse and inclusive communities. Set aside time to participate in a mental health awareness workshop or sign your team up for an inclusion training session together.
Lunch and learn. Choose a lunch break to sit down with your colleagues (in person or virtually) to listen and learn about someone else's culture or disabilities. Freedom to talk and gain a greater understanding of each other is a kindness which can benefit us all.
Remember to always be mindful in your communication. This includes using the right pronouns, avoiding strange acronyms or jargons when speaking with people who have a different first language, and ensure you have considered alternative resources such as Braille, audio descriptions, subtitles, sign language interpreters, and large print for use in interviews, meetings or presentations.
With kindness as your starting point, there are many ways you can create a sense of belonging and inclusion in your workplace and for your work colleagues. Here are some more suggestions:-
1. Active listening
When people take a little more time to genuinely listen, without distraction, it makes us feel valued and more able to be ourselves at work. While this is not surprising as important, it is surprising that many people frequent their workdays without feeling truly listened to.
Active and genuine listening in the workplace is not only important in the moment, but impacts individuals and the overall ability of an organisation to be inclusive. An inclusive kindness could as simple as someone in your organisation demonstrating they have remembered something you have said, like the name of a family member or a detail about a project you are working on or a hobby you love. Each time you show you have really listened to someone is an act of kindness that can make a BIG difference to their day.
2. Recognise achievements and contributions
Acknowledging and recognising someone for their work is an act of kindness we can all do to foster inclusion.
This could be sending an email to highlight someone's contribution to a project or simply a colleague saying "that's a good idea" in a meeting. People feel most included when their work contributions are shared in front of others, widening the recognition of their accomplishments and contributions.
It need not be management acknowledging great work or contributions to a project – it's equally important when colleagues make an effort to share recognition for the contributions of others.
Similarly, people also feel included and valued when colleagues support their ideas and contributions in meetings and discussions, amplifying their voices and crediting them.
3. Seek opinions, help and the expertise of others
We all feel more valued and included when we're proactively asked for our opinion or advice on a project. Whether it's consulting someone in a decision-making process, asking for help on a task, or being looped into a meeting outside of your own department or area, these inclusive kindnesses help make the workplace feel more collegial and collaborative.
Similar to having our work, contributions or ideas recognised, people appreciate and feel included in the workplace when they are called upon for their opinions, help or expertise.
4. Welcome new employess
This may seem like an obvious act of inclusive kindness but from day one someone should take an active role to introduce a new employee, orient them and include them in social opportunities, so that they feel included and welcomed. Take the time to show them around the office building and surrounding area and provide helpful tips to orient them (e.g. where to get a coffee, where to eat) as well as highlighting workplace norms and culture. People will also appreciate the inclusive gesture of management sharing a personal "to all staff" announcement by email or holding a meeting to welcome them. Even if for now it is only a virtual welcome, everyone feels included when they are actively and warmly welcomed as new employees to an organisation.
Let's #MakeKindnessTheNorm.