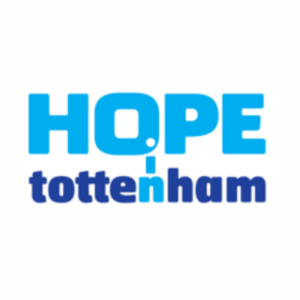 Hope in Tottenham is a community based local charity that has been established to serve the needs of children and young adults in the London Borough of Haringey. The organisation has Christian roots and describes itself as 'faith based but not faith biased'.
It runs a variety of targeted programmes in areas of social deprivation, bringing support, advice and above all hope, to communities where social cohesion and aspiration may have become fragmented.
The biggest programme of work currently is the schools counselling program for Primary Schools in Haringey; this service currently benefits about 400 students per year.
The Charity also provides mentoring support to young adults, recruiting volunteer professionals who wish to give their time to enabling the aspirations of those who may lack direction or role models – and would like to substantially increase this programme.
HiT is deeply embedded in the community and over the last decade has developed roots inside the borough enabling it to act as a bridge between, for example, the police and schools where HiT has for years run joint events that neither could have done alone. At its heart it is deeply relational, creating dialogue, connections and trust between Tottenham-based organisations, including the police and schools.
The current Trustees have shepherded HiT through a significant period of change over the last two years. It is now stable, secure and wishes to expand its work, recognising that the need has never been greater.
We are seeking three new Trustees who can help to steer and support the director through the next growth phase of HiT and offer innovation and ideas to the current project and ways of enabling the charity to expand and scale.
We are ideally seeking individuals with experience or background in the following areas:-
Youth counselling and mental health.
Building relationships with community-based organisations.
Managing and operationalising organisations as they grow.
Structuring funding applications from foundations and public agencies.
Act reasonably in decision making and leadership of the organisation.
Manage risks with a considered, proportionate and balanced approach.
Work with fellow trustees to shape, drive and monitor the HiT strategy.Ensure the proper management and administration of the charity.
Use any specific skills, knowledge or experience you have to help the board of trustees reach quick and sound decisions by leading discussions, focusing on key issues, providing advice and guidance on new initiatives, or other issues in which the trustee has special expertise.
Review funding applications, agree the awarding of funds and have oversight of the progress of funded projects.
Promote the work of the HiT externally.
Participate in sub-committees.
We value applications from people within Tottenham or locally based in the surrounding communities. This is an exciting time for Hope in Tottenham as it expands the next phase from a stable base.
If you are interested please submit your CV and a covering statement explaining how you would support the work of HIT as a Trustee to Jason Burgess jason@inclusiverecruiting.co.uk
You can find out more about Hope in Tottenham from its website www.hopeintottenham.com
If you have any questions, please direct these to chair@hopeintottenham.com